In-Home, Non-Medical Care Started by Family Members Who Have Been There
Home is the best place to be
We at Caremore feel strongly that, whenever possible, your home is the best place to rehabilitate and reside. We understand that people cannot always be home by themselves, we are here to assist with activities of daily living to allow you to return-to and/or remain-in your home.
Client focused care and assistance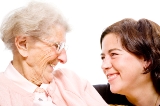 Caremore takes our slogan seriously, started by the family of an auto accident survivor who requires around the clock home care, we know what it is to rely on a company to put someone in your home. We care for the client and strive to provide in-home and support staff of the highest quality while maintaining a personal touch. We understand how to do this because we have been there for over twenty years.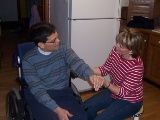 Responsive staff and management
We realizes that having assistance in your home is not something to be taken lightly. Our management is available to be contacted directly anytime day or night to address issues, questions or concerns you may have.
Safety and security
At Caremore our number one priority is the client. All employees are bonded, insured and go through a screening process that includes interviews, drug screening, criminal background check, reference checks and more, prior to going into the home.